New Zealand
The exhibition provides a clear interpretation of colonization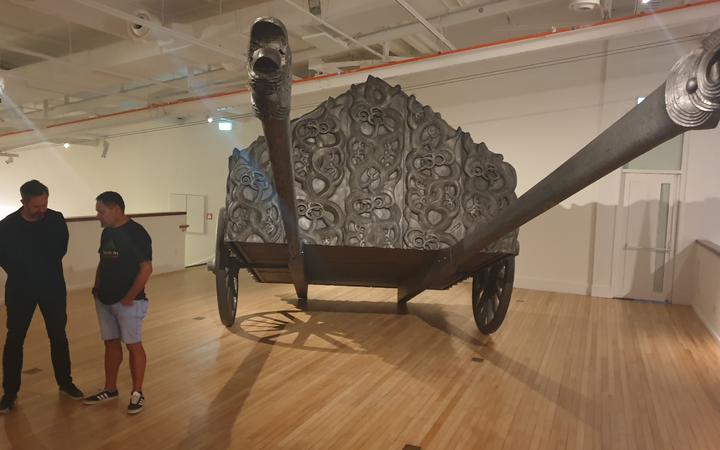 A new exhibition in New Plymouth looks at the impact of colonization on Maori.
As you step into Brett Graham's Taimoana Titangata exhibition, you'll soon face a dark and ominous soundtrack that suggests it may be a challenging experience.
Subtitled-"Warning about Human Efforts in Aotearoa, New Zealand"-It depicts similarities between current land warfare, confiscation, environmental and economic issues.
Graham (Ngāti Koroki Kahukura, Tainui) completed an artist staying at the Govett-Brewster gallery in 2019, investigating the relationship between Waikato Tainui and Taranaki and the impact of Laupatu or land confiscation on both.
The 10-meter-high Niu, or Paul, a symbol of the Pai Marile or How How movement that began in Taranaki, is the first of the five monumental sculptures you will encounter.
Initially of a peaceful nature, Howhow has become associated with direct action against colonialists.
A Waiuk-based artist said that the work "Stopping the Tide of Wrong Behavior", which refers to Paris Haka, is central to the exhibition.
"These haven't been seen in some parts of the country for over 150 years, and the version of Paimari Lekarakia that our people have returned to energize that Pooh and we are still practicing at all gatherings I'm doing it here in Taranaki and it was incredibly moving. "
juxtaposed to niu is one of three video installations featuring TeNamu.
The Hauhau Prophet Te Ua Haumine had a vision on this beach in Opunake, where Archangel Gabriel informed him that God had driven Pakeha out and chose him to return the land to Maori. It was.
But here the beach is covered with oil rigs and gas flares, while the sea is sickly black.
Graham said there is no exhibition that looks back on the past.
"It needs to be relevant not only in the past, but also in the present, where the film is the capital that such things prevail because of the vast confiscation of land and the attitude that those settlers brought to them. Principle and depletion of resources. "
Upon its first landing, the sculptural pioneer was a stylized version of the turret of the eponymous gunboat that cruised the Waikato River during the New Zealand Wars.
The carpet of the stairs leading up to the wedding cake-like structure is studded with hatchments and colors of the militia and regular army who participated in the Taranaki War.
It resonated with Warehoka Wano, who heads Willinga Toy, an advisor to Te Ao Maori's gallery.
"Don't you think it's Takahi? When you say Takahi, you talk about trampling. When you trample a house, when you walk around the house. You have a presence in that place, and you have it in another place." I'm ignoring it a bit, so I can repay the compliment here. "
Mr. Wano said the exhibition was equally important to Maori and Pakeha.
"I am convinced that there is a desire to know the truth, and to know more causes. They still do not have the most racial shadows of tribes based on ignorance. You know that
"Forget the history we have to move forward. We all want to move forward, but it needs to be based on understanding."
Antony Rhodes, acting director of Govett-Brewster, was also a must-see for this exhibition.
"What happened here was unique in many ways and important both domestically and internationally. The connection between Paris Haka and Gandhi, the knowledge of peace and passiveism that spreads from Paris Haka to the world.
"It's important that we can tell these stories. It's important that we can share multiple perspectives on history."
Thai Moana Thai Tangata will continue until May.
The exhibition provides a clear interpretation of colonization
SourceThe exhibition provides a clear interpretation of colonization