New Zealand
Shihad's lead singer Jon Toogood finds love and Islam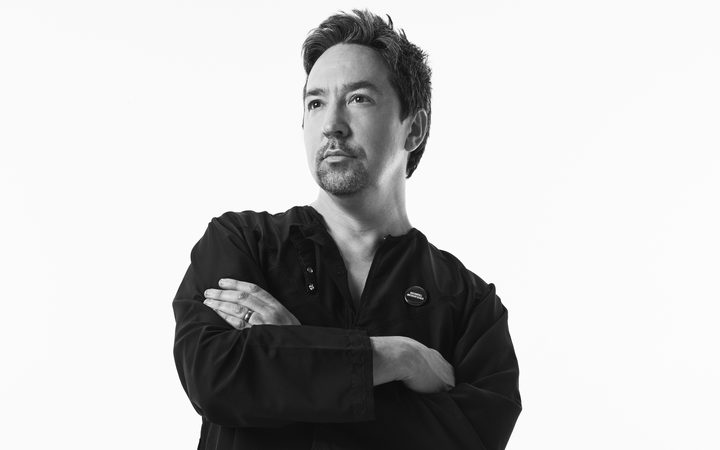 Sam Wicks For ABC
As Shihad's lead singer, Jon Toogood wore anti-authoritarianism and gained a lot of fans.
"I was a stubborn atheist … I got the impression that everyone who believes in religion is a sucker," he said.
Eventually, two terrorist attacks decades apart will challenge him to wrestle with everything he was true of, from family to faith.
Rewind in 1988. Wellington's two heavy metal crazy teens are firing VHS tapes.It is an adaptation of a science fiction novel by David Lynch. Dunes, And JonToogood and Tom Marchin are glued to the screen.
The film builds a spectacular battle scene called "Jihad," which means struggle in Arabic. Mistaking "jihad" for "shihad", the two companions decide that it's the perfect name to find their rock ambitions.
Fast forwarding early in the new Millennium, my friends are now longtime bandmates.
Shihad has released four acclaimed albums, performed to an audience around the world, and gained influential support from bands such as Metallica and Faith No More.
Those hard yards gave them the opportunity to record a big budget album in Los Angeles, and the band believed it had a good chance of cracking the most important American market.
After that, the 9/11 incident changed the flow of the world and the history of the band.
"World War III has begun!"
Toogood was in a hotel room watching the latest news on all TV stations.
"Tom goes,'Turn on the TV, World War III has begun!'" Toogood recalled the terrorist attack on the Twin Towers in New York.
He said the band soon learned what it meant for their future.
Toogood's worst fears were recognized when U.S. national discourse fell into President George W. Bush's "Are you with us or are you with the terrorist ultimatum?" It was.
"We are beginning to notice. Our name is like calling ourselves" Death to America. " "
After fighting for 15 years to release a record in the United States, Shihad decided that the band needed to be renamed.
They reintroduced themselves as the title of one of their biggest songs, Pacifier.
"It was the tongue on the cheek," he admitted.
"But that's a terrible name for the band. Pacifier, what is it, is it a dummy?"
The group released the album as a Pacifier, but their enthusiastic fan base rejected the band's name change as sold out.
Faced with the ever-present "Sihad" chant at the show, the band eventually regained their original Monica.
Toogood's marriage collapsed while Shihad remained tight. He settled in new ventures, including The Adults, a side project with a controversial name.
At the after party of the songwriting workshop, he introduced himself to a Sudanese student.
"Her name was Dana. She wore a scarf, so I thought she might be a Muslim," he said.
"And that was one of those moments in your life you just go,'Oh, you're there.'"
Their relationship has made a big difference in Toogood's life.
He spent his musical career addressing identity issues, but didn't have to question his belief system in the way his new relationship required.
"I remember telling her,'So if I wanted to marry you, she was very surprised,'" she said. "I have to convert to Islam. Isn't it? "And she went," Well, yeah. "
"I have to question my entire belief system here."
Leap of faith
What followed was a period of intense introspection. He consulted with his father, a Muslim convert, and most importantly, Dana himself.
"There was something beautiful [Islam] Because she was beautiful to me. Therefore, it was she who sent me. "This requires something."
"So I have faith here at once and I'm going to dive right away."
For some time, Toogood's conversion was known only to family, friends and close colleagues in the music industry.
This privacy was in contrast to the highly public platform previously used to amplify his view of organized religions.
When he and Dana were ready to talk to the media, they chose a New Zealand magazine to carry the story. But when the news of the siege of the Linz Cafe in Sydney was reported, he asked to pull the piece.
Toogood kept his religion a personal matter, as events beyond his control forced his hand again.
He wrote a dissertation on the music of married Sudanese culture, continued to grow himself beyond Shihad, and began a side job as a teacher.
Between classes on March 15, 2019, Toogood confirmed that the news feed was saturated with reports of another shocking terrorist attack, a shooting inside the Masjid Arnour Mosque in Christchurch. did.
"I was so intensely sad and angry and so angry that the poison finally permeated the country where I grew up and I remember I loved it.
"At that point, I finally thought this was the environment … if I had time to talk about my conversion, it would be now."
Just a month after filming, New Zealand music gathered behind the Islamic community at Christchurch Stadium in a You Are Us fundraising campaign featuring a local lineup that included Lord and Marlon Williams.
Both Shihad and The Adults are included in the bill, and Toogood arrived in Christchurch the day before the concert.
Last week he talked about converting to a New Zealand newspaper, and Shihad's headlining spot will be their first since Toogood published his faith.
But before he joined his bandmates, he had to make an important pilgrimage.
"People from [Al Noor] The mosque took me to the front. "
"It's a great sign of respect … the closer you are to the front, the closer you are to God.
"Part of the prayer is a movement called sujud, which touches the head to the ground, and what I noticed is that the floor is covered with cardboard.
"And the reason it's covered with cardboard is because it's just blood underneath. 51 people were killed in this room.
"And that was when I shed tears … I just overcame the sadness of being in that room.
"I went there to provide support and wrap my arms around them, and they eventually comforted me."
The next night, Toogood was preparing to confront the crowd at Christchurch Stadium. Drummer Tom Larkin asked what he was going to say to meet at that moment.
"I didn't even think about it," Toogood said. "We were going to play pacifier, A song of hope and power.And we were going to end with Home Again … a song about the house.
"That's what came to me.'The house is not the place, it's the people who build the house,' I think I said.
"I just wanted to make sure I wasn't on stage. What happened at the Arnour Mosque was everyone at the stadium who realized it wasn't the world we wanted to live in.
"People trying to separate us-it's all a farce, not the real thing.
"I know from direct experience that one of the best humans I have ever met happened to be a Muslim, which proves that your Muslim theory is completely wrong. . I know it as a fact. I have lived it. "
-ABC
Shihad's lead singer Jon Toogood finds love and Islam
SourceShihad's lead singer Jon Toogood finds love and Islam