Sports
Recent Match Report-Derbyshire vs Warwickshire Group 12021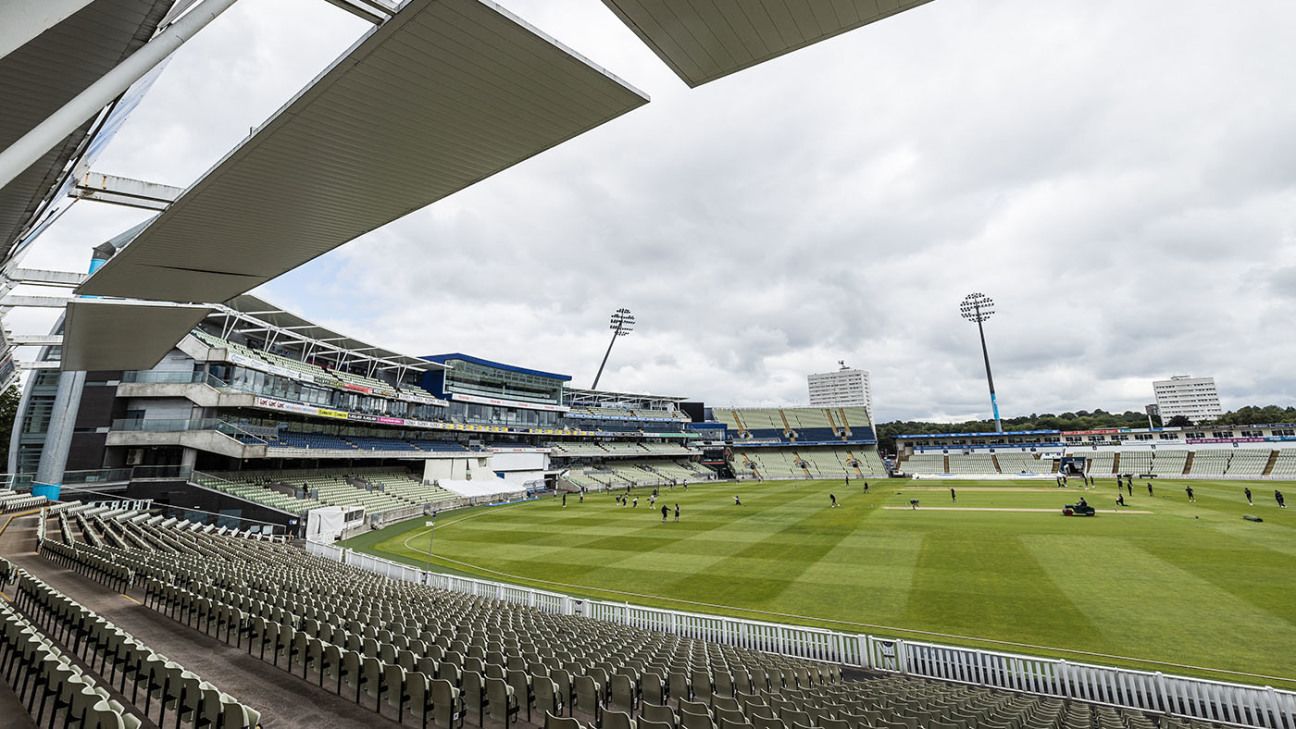 Warwickshire 169 for 5 (Lamb 41 *) trail Derbyshire 189 x 20 run
Warwickshire wants to convince the government to allow 50% capacity in a test between England and New Zealand in Edgbaston in June.
The game will start on June 10th. This means that current guidelines only allow 25% of the ground. Game tickets are almost sold out.
But now the club has sent a letter to Oliver Dowden (DCMS), Secretary of State for Digital, Culture, Media and Sports, asking him to consider the test as a "verification event." That is, the current guidelines will be used for some time from June 21st to show that sports stadiums can safely accommodate higher capacities after the Covid protocol has been lifted.
Importantly, co-signers of this letter include Ian Ward, the leader of the main Andy Street and Birmingham City Council in the West Midlands. Warwickshire hopes this demonstrates the region's determination to make such arrangements work and incorporate public transport and accommodation plans.
Warwickshire's suggestion does not require the use of a vaccine passport. Instead, they have proof that the spectator has been fully vaccinated (ie, both jabs) or that immunochromatography from the accreditation center has been negative in the last 48 hours. I proposed a system that is. They also have the option to show that the antibody has recovered from the virus in the last few months.
It is understood that DCMS has received Warwickshire's letter and is considering its answer. The club seeks replies by the first week of May at the latest, so you can organize a vote to decide which ticket holders can attend. The club is insured for the lost value of ticket revenue.
The absence of spectators on the second day of the Warwickshire Championship match may have been a disguise blessing. Cricket was pretty attractive, but it was a terrible cold day and was interrupted several times due to rain and bad light. Watching through a live feed may not have been a bad option.
The cold may have been related to the important moments of play of the day. It's a little fun to slip on a day like this, but Warwickshire caught it nicely on the first day, but Derbyshire put two chances in some balls on either side of the tea. Had they been taken, it would have left Warwickshire for 7 at 141.
As it was, Tim Bresnan, who dropped on 11, and Matt Lam, who dropped on 30, gave Warwickshire an uninterrupted 55 on his sixth wicket to help him return to this low-scoring match. I was able to add it.
Still, this was a performance that Derbyshire's young seam attack could justify and be proud of. Four of the five bowlers used played less than 20 first class games. Two of them are playing less than 10. However, they showed good skill and tenacity by skillfully using the conditions, and with a little luck, they may have helped their side lead the first inning.
Rob Yates was probably the most reassuring of the top batters. He impressed Alastair Cook with his "well-organized" game and gentle temperament last year, and you can see why. He can get away comfortably, but he's good at putting something on the pads and raising the pitch too much, and he needed something good to angle and edge from Sam Connors. ..
Sam Hein wasn't really calm and was drawn into a loose drive against the fast-growing outswingers from Ben H.S. Michael Burgess regained his composure as Derbyshire's Seamer allowed only four runs with 45 balls. At one stage, 28 dot balls participated in a row.
Both Luis Reese and Michael Cohen's left-handed seamers finished the day innocently, while both were impressed. Reese hit the bat many times with swing bowling, but Cohen was relatively small for fast bowlers, but created a sharp pace and returned to right-handedness in a comfortable shape. Both bowls don't work and require wickets.
However, Bresnan and Ram played frequently and made mistakes, but they generally played straight, refused to push the ball, and cleaned up the bad stuff. Lamb looked like a particularly skilled square in Wicket, but I was lucky to see Leus du Ploy beat him when he framed one from the worthy Fynn Hudson-Prentice.
Warwickshire off the pitch also had a boost. Peter Malang He currently has the visa he needs and will arrive in the UK by the end of the month. So he will make his debut in Warwickshire on May 6th. Until then, Hanuma Bihari will act on your behalf.
Warwickshire has expanded its options in playing Bihari and Malang on the same side, but the county will be able to choose two foreign players per game this year, but it's unlikely. The club has high expectations for young batters such as Yates and Dan Musley and continues to work to provide them with opportunities.
George Dobell is a senior correspondent at ESPNcricinfo
Recent Match Report-Derbyshire vs Warwickshire Group 12021
Source link Recent Match Report-Derbyshire vs Warwickshire Group 12021