World
Federal election 2022 live updates: Chalmers accuses Frydenberg of lying about taxes as cost of living and NDIS dominate debate | Australian election 2022
Scott Morrison is in Glenelg, by the way. Glenelg is famous for being a palindrome, and for being the former home of Magic Mountain. It's in Boothby, South Australia's most marginal seat. The sitting Liberal MP, Nicolle Flint, is retiring at the election, and Morrison has been touring Glenelg with the new candidate, Rachel Swift.
He's announced an upgrade to the main drag, plus $2m to double an existing reef, and another $2m to build a new reef.
Fine, these pics of prime minister Scott Morrison in the Adelaide sunshine quickly put the lie to my 'soggy' claim. As you were.
Good afternoon, all. Coming to you from a slightly soggy Adelaide (I know, east coast, we can't complain!). There's definitely a second-half-of-the-campaign busy-ness going on, big thanks to Amy Remeikis for bearing the brunt of it!
The campaigns are rolling on, with Anthony Albanese to spend part of his day tomorrow preparing for his solo Q&A appearance.
No word yet on whether a leather jacket will be appearing with him, a la Malcolm Turnbull.
After the rapid fire nature of yesterday afternoon, here is hoping Tory Shepherd has a slightly more manageable one as she keeps you up to date into the evening. I'll be back early tomorrow morning. Until then – take care of you Ax
Josh Butler has taken a look at the contest for the Hunter
Victoria's education union has warned that the state's public schools are under-funded by almost $2,000 per student each year, as it launches a pre-election campaign blitz in three marginal seats.
The Australian Education Union's Victorian branch will deploy mobile billboards ads that will travel around the marginal electorates of Chisholm, Dunkley and Corangamite.
The billboards demand that the next federal government create "proper and fair funding" for the state's government schools.
The union has released new public schools funding data, based on its analysis of federal government figures provided to Senate Estimates. Its analysis found public schools in Dunkley were under-funded by $127.4m of their their schooling resources standard (SRS) – a benchmark created in the Gonski review. Public schools in Corangamite lose out on $84.6m while Chisholm's schools will be short-funded $50.4m.
The analysis found each school in Victoria could employ an average of 10 additional teachers and provide additional learning programs if they received their full SRS funding.
AEU Victorian Branch President Meredith Peace said Victorian public schools were missing out on $1,971 per student each year because they were not funded to their full SRS:
Victorian public-school students continue to be the lowest funded in the country after almost a decade of reckless funding cuts perpetrated by the Morrison Government.
Qantas has cancelled one of its longhaul services, AAP reports:
Qantas will stop using Darwin as a hub for one of its London services after the war in the Ukraine restricted the number of passengers the airline could transport on the flights.
The national carrier says the QF9/10 service will fly via Perth between Melbourne and the UK so more seats can be made available to travellers.
"Our flights from Darwin to London are currently operating with reduced passenger numbers," a spokeswoman said in a statement on Wednesday.
"This is due to the effective closure of Russian airspace, which means we have to carry extra fuel to fly an alternative longer route."
Qantas said the Perth to London route was shorter, which meant less weighty fuel was needed and more passengers could be carried.
The airline temporarily rerouted its London flights from Perth to Darwin in November after the West Australian government announced it was unlikely to reopen its borders to international travellers amid the COVID-19 pandemic.
"The NT government and Darwin Airport went above and beyond so that we could operate these services when WA kept its borders closed, and we're extremely grateful for their partnership," Qantas International chief executive Andrew David said.
The QF1/2 service in and out of Sydney will continue to operate direct between London and Darwin as scheduled until June 18 when it will return to Singapore.
The first Perth to London flight will depart on May 23. They were previously scheduled to return to Perth from June 19.
Q: The government has said today they have done more than any other to help women. Amanda Stoker was at a pro-life event family … we also know that Matt Canavan was also there. What message does that show to Australian women and what will Labor do to make sure women in this country are heard on decisions and choices around their body?
Anthony Albanese:
We respect women. We will have a very different approach. If you look at my campaign launch on Sunday, [we] had as a major policy differentiation the issue of the gender pay gap and addressing those issues.

This is a government that sat back and, as a direct result of the way that women in particular felt about the government's attitude towards women and women's safety, had tens of thousands if not hundreds of thousands – well, hundreds of thousands around the country – of women march for justice. The prime minister couldn't walk out the front of Parliament House.

And then he stood up in Parliament and made the comments that, in other countries, people who were protesting would be shot.

That was the response that women got. We still have a failure to adopt the 55 recommendations of the Respect@Work report. We have questions which still remain to be answered about the prime minister's offers and what they knew about issues and just a roadblock put up.

We have, I'll lead a government that respects women, that makes sure that we recognise that one of the things that we can do to advance this country is to fully embrace the commitment of advancing women's interests because that in our national interest as well. That's on a national interest. A good government isn't one that represents just 50%. It represents the whole society.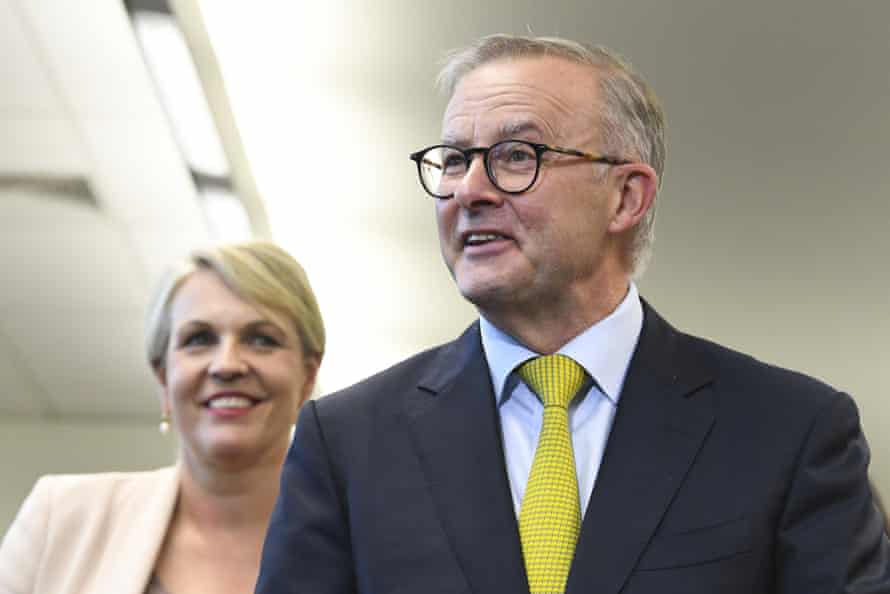 Q: We have hard economic times with a lot of debt, if you get into government can you guarantee no cuts to education and health?
Anthony Albanese:
I tell you what will make with a potential savings, it is in the rorts that have occurred under this government.

They're not rorts in education and health and the NDIS, they're rorts in the allocation of funding on political basis with their colour-coded maps. That's why we have said, we will have an audit conducted by Treasury and finance, and have a line-by-line examination of that.

But Labor will always be be better on education and health. Labor will always be better on education and health than the government, than the Liberal Party. Because we believe that a healthy society is a productive society. We believe a society that invests in education is investing in growth and our future.

Part of a better future for Australia is making sure that people aren't left behind and people aren't held back. What that means is investing in health and education, we've put forward during this campaign, if you look at our priorities, including here in Tafe and universities and early learning, the commitments we have made for health are all about improving the system.

When it comes to the NDIS we have had a comprehensive plan announced by Bill [Shorten] with six points. One of the things we want to do is take pressure off people who will either have had their funding cut or worried their funding will be cut, take away some of that bureaucracy, the money that has been spent attacking people, and their packages, on the NDIS.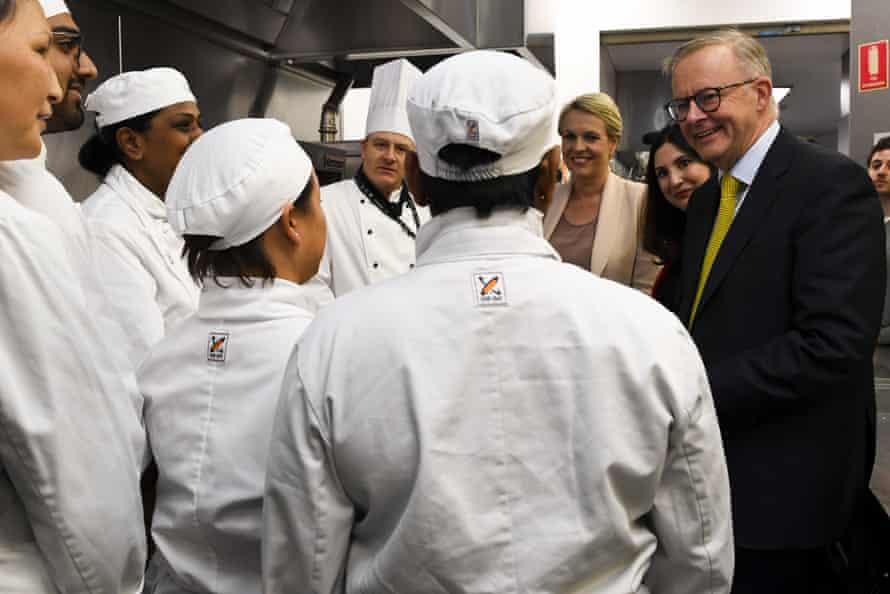 Q: We know business costs are rising as well, it emerged today the price of printing for newspapers is going up 80%, putting regional newspapers across the country under threat. Do you support immediate financial relief to help the sector and how much of a loss would it be if regional newspapers were to close down, and those communities left without a voice?
Anthony Albanese:
It would be a massive loss, a massive loss. Regional newspapers play such a critical role in regional communities. If you live in the middle of a big capital city like the one we are now you are impacted by a range of factors, the thing about a regional community, Canberra or others as well, that are potentially impacted by this and it is circumstances beyond their control … I've always been very sympathetic when I have met with regional media, Win [News] and others about the pressures they are under, I would take a constructive role on any of those issues.

From now during [the] caretaker period of course, I would be prepared to sit down and I believe they play an important role, and it is legitimate to make sure they have substance.
Q: People are doing a tough, it's only going to get worse can you commit to a increase of the jobseeker rate under a Labor government and the pension rate?
Anthony Albanese:
What I have said on both those issues, is that one of the things Labor governments should always do is assist people in need, and we know that people are doing a really tough, the jobseeker rate is under $46 a day, just under.

I have said that every single budget shouldn't have – we don't need a review to know people are doing it tough. What we need to do is, for each and every budget, to examine and do what we can do to assist people. The last time I was in government, I was proud to be part of a government that had the largest ever increase in pensions in Australia's history.
Q: Will you be increasing the jobseeker rate? You didn't answer the question.
Albanese:
I did answer the question. I said in each and every budget we will consider what we can do on issues like that.
Q: Tanya Plibersek have you been shafted from the official Labor election campaign and is your appearance here today an effort to put those rumours to bed?
Plibersek:
We are here today to talk about education, which is my portfolio. I have been travelling around the country, working very hard for a Labor win. I have visited more than marginal seat so far, I'll keep doing that. I don't know how many media events I have done, last count about 30 of them.

And can I tell you one thing? Not a single person has stopped me in the street and asked me the sort of question you just asked me now.

You know what they are talking to me about? The cost of living. The interest rate hike they've just experienced, they're talking to me about the fact it is harder and harder to make ends meet, under the Scott Morrison government.

And you know what I tell them? It is only Anthony Albanese that has the plan to take a little bit of pressure off families by reducing the cost of childcare, by helping them with affordable housing, by reducing the cost of medicine, by making sure they can get a great job and when the business is doing well and employers are doing well, see the occasional pay rise as well.
Albanese:
Can I make this point. No, can I make this point. Everyone gets one question. I was criticised by some in the media yesterday for taking more than one question so I've taken that on board and now you only get one.

Can I just say on that, I've got my education spokesperson here. Who is Scott Morrison's education spokesperson?

Who is it? This is a fundamental issue, education is so important. Scott Morrison can't say who his education minister is, now. And he is the government. Today he has made more comments about Alan Tudge, what is Stuart Robert doing? I am proud to be captain of a fantastic team. It's a ripper team.

I will appear with all of them over the course of the campaign, and what we are doing is, coordinating people who are out there in every state and territory. I have shadow ministers today in Queensland, WA, South Australia, Tasmania, NSW and Victoria. Possibly Northern Territory as well. Scott Morrison has ministers who are in witness protection, ministers who are in witness protection, who can't appear anywhere.
Q: Referring to the Solomons is our backyard, Manasseh Sogavare has said, is offensive. What is your first order of business of repairing that relationship with the Solomon Islands if you win the election?
Anthony Albanese:
We will show respect to all the Pacific family.
Q: Back on interest rates, what are you paying on your properties and here in Victoria, have you caught up with Daniel Andrews during his visit? Will he be out campaigning with you before the election?
Anthony Albanese:
I have been here for about an hour and a half which you would be aware. During that hour and a half I would assume the Victorian budget, because it was handed down yesterday [is keeping him busy] … I certainly will be campaigning with Daniel Andrews during this campaign.
He is asked about what interest rate he is paying and says reporters get one question again.
Back to Anthony Albanese's press conference which was cut short because of the debate.
Q: On the gender pay gap there is a 28% difference between men and women when it comes to super when they retire, as Labor got a plan to address that difference?
Albanese:
We sure do, it's called our childcare policy, it's called a policy that doesn't include a structural change which gives a disincentive for women to work a third or fourth day. It's one of the reasons why the Business Council of Australia and other business groups have called for childcare reform.

You need to recognise that one of the things that has an impact about the current mishmash and mess that as childcare subsidies, whereby, for some women if they work a fourth or fifth day, what that does is they can actually lose money or at least not earn any additional funds.

That does a couple of things. One, it stops them being promoted, because they are not full-time participants, and they are at a competitive disadvantage in their workplace. Two, it holds back productivity of those businesses, but three, it means women retire with less superannuation than would otherwise be the case.

And it's also the case that the gap, and that's what explains the gap that is there in terms of retirement incomes compared with the current wage gap, the gender pay gap which is 13.8%.
Tanya Plibersek:
There are two things we have to do to reduce the superannuation gap. The first is make sure women are paid equally with men, we have a great set of policies to make sure that happens, including more transparency in workplaces, including the Fair Work Commission having greater powers to make orders to pay men and women equally.

The point Anthony makes about women being discouraged from working those last couple of days a week because it actually costs them money to go to work is a really important one. Families are making decisions all the time about how to best balance their budget.

If it cost the secondary earner in the family money to go to work, I can tell you they're not doing it. So cheaper childcare and reducing the gender pay gap, that's how we reduces the superannuation gap.
Josh Frydenberg didn't dispute or address this from Jim Chalmers. He didn't defend it in any future answers, he didn't challenge it, and he didn't say Chalmers was wrong, despite the opportunities offered.
Well, the treasurer has just lied to you.

In every way that you measure tax in the budget, this government has taxed more than the last Labor government, that's just a fact.

They have taxed more in total, they have taxed more as a share of GDP, they have taxed more per person and they have taxed more adjusted for inflation.

So that's a lie. And we need to call it out when we see it.

It's one of those big furphies that gets dragged out in election campaigns in particular.

This tax cap that Josh talks about – 23.9%.

In the history of this nation, that tax cap has been breached four times.

Every single time was a Liberal government. Every single time.

No Labor government has got anywhere near breaching the current tax-to-GDP cap. Let's have some facts about this on the table.

This government is the second highest taxing government of the last 30 years and the highest taxing was John Howard's.

So enough of this rubbish about tax.
And the debate ends.


Federal election 2022 live updates: Chalmers accuses Frydenberg of lying about taxes as cost of living and NDIS dominate debate | Australian election 2022 Source link Federal election 2022 live updates: Chalmers accuses Frydenberg of lying about taxes as cost of living and NDIS dominate debate | Australian election 2022