Business
EC8 Saves Time and Waste in the Construction Industry – NZ Entrepreneur Magazine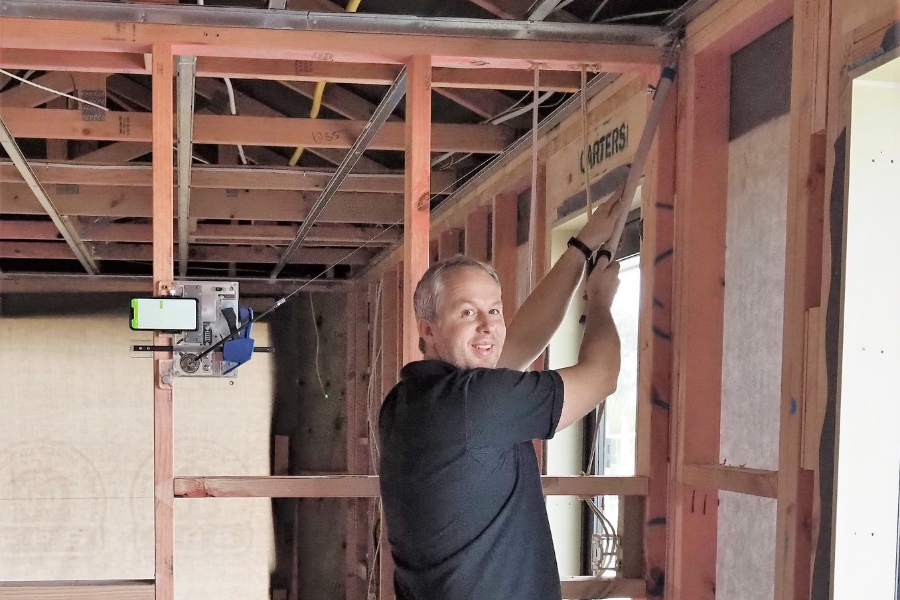 Christopher Staal's startup EC8 has developed a technology to supply pre-cut gypsum board to construction sites, reducing the overall construction time of a home by two days and reducing waste by up to 30%.
New Zealand builds 34,000 homes each year, and the United States builds more than one million homes each year. EC8 It has great potential.
After returning to New Zealand with his wife and young family in 2018, Stahl was refurbishing a 1940s character home in Hamilton when he realized he could improve the gypsum boarding process.
"I was wondering why the building materials (other than framing) didn't reach like the furniture in the kitset," says EC8 founder Christopher Stahl.
"Builders have been installing gypsum board in a similar way for about 60 years. This can be very repetitive as it involves three measurements. One for integration and one for the wall. So I'll mark each sheet once more, "he explains.
"I started tinkering with 3D printers, CNC gear, and software development to see how automated steps and processes could be applied. EC8 is designed to reduce waste and build homes faster. It has been."
Staal has created a tool that allows you to digitally measure wall dimensions as a 2D model in less than 2 minutes using an easy-to-use app. Builders simply mount the device on the wall and get a digital copy of the wall in less than two minutes. Builders can send orders directly to the factory for production before the pre-cut gypsum board is delivered directly to the construction site.
With a background in engineering, commerce and finance, Stahl has impressive skills that helped him reach this stage of his entrepreneurial journey. But like many entrepreneurs, he needed a little extra help.
Starr first encountered Soda, a Hamilton-based business growth ecosystem, when he finished third in one of Soda's seed grant contests. Since then, he has completed Soda's customized startup program, LIFT, and has played against industry expert and mentor John McCaskill Smith.
"Soda made a big difference by connecting me with the right people, focusing on EC8 and pushing me in the right direction. My mentor, John, fully understands me and makes a big difference. He is passionate about helping entrepreneurs. He helped me refine my target market and come up with the best commercial model for the EC8, "says Staal.
EC8 is currently in the prototype stage, testing its technology and preparing for the prototype stage. The next step is to raise money and sell the technology and systems to major manufacturers.
What is his biggest challenge as an entrepreneur?
"Time! It was hard, so I'm doing it all myself. EC8 was awarded the Callahan Innovation Grant, so I'm lucky to be able to work full-time at EC8."
A story created in partnership with Soda Co., Ltd.
---
Innovation nation A series celebrating the story of innovation and entrepreneurship across New Zealand.
Innovation Nation is proudly supported by:
EC8 Saves Time and Waste in the Construction Industry – NZ Entrepreneur Magazine
Source link EC8 Saves Time and Waste in the Construction Industry – NZ Entrepreneur Magazine