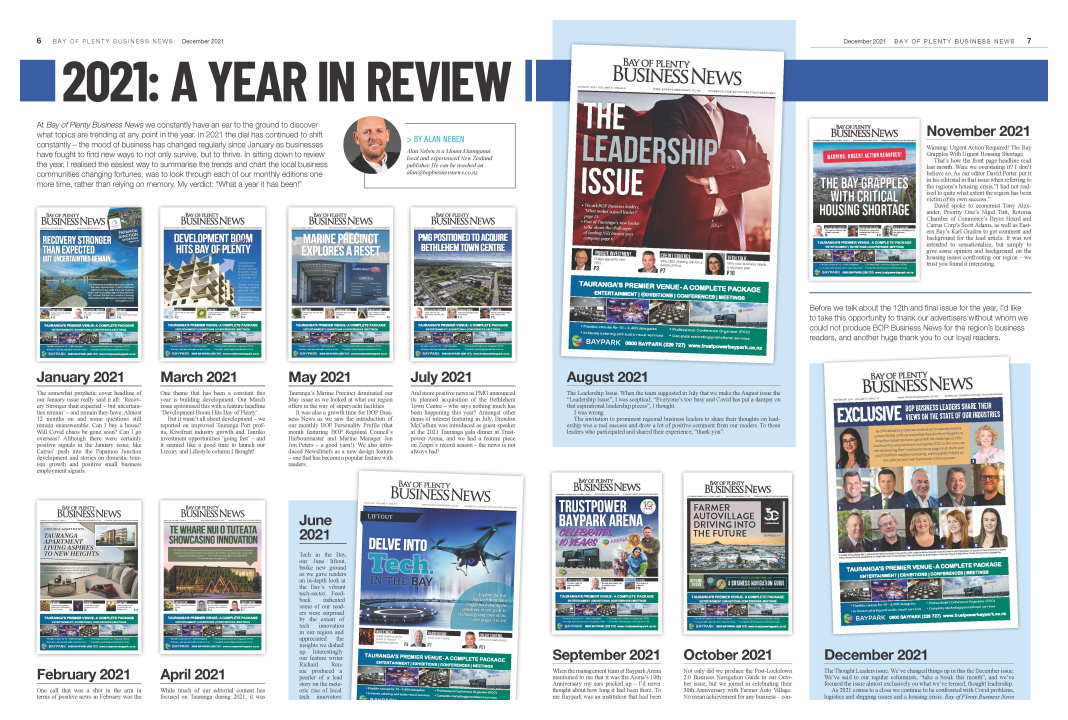 The Bay of Plenty Business News keeps track of which topics are trending at what point of the year. In 2021, the dial was constantly changing. The business atmosphere has changed regularly since January as companies have fought to find new ways to survive as well as prosper. Sit back and look back at the year, the easiest way to summarize trends and graph your fate-changing local business community is to revisit each monthly edition rather than relying on memory. I noticed.
My verdict: "How many years was it!"
January 2021
The slightly prophetic cover headline of our January issue really said it all:'Stronger recovery than expected – But uncertainty remains'– and they still have. It's been almost 12 months and I still have some questions I can't answer. Can I buy a house? Will Covid's confusion disappear soon?
Can you go abroad? There were certainly positive signs in the January issue, but there were talks about Carrus' focus on developing Papamore Junctions, the growth of the domestic tourism industry and the positive signs of SME employment. I have.
February 2021
One call shot in the arm in terms of positive news in February was a groundbreaking announcement. Luxridge luxury condominium in the center of Tauranga.. It was especially encouraging to hear Rob Gartshore of the Gartshore Group say, "Luxridge understood it right," when uncertainty seemed to be pervasive throughout the community at the time. Recently, we updated the development progress in the November issue.
March 2021
One of the themes that will not change this year is building development. Our March issue symbolizes this with a featured headline.Development boom hits Bay of Plenty'.
But it wasn't just about development. He reported that the profits of Tauranga Harbor have improved, the kiwifruit industry has grown, and investment opportunities in Tauranga are "rapidly advancing." It seemed like a good time to launch my luxury and lifestyle column.
April 2021
Much of our editorial content focused on Tauranga in 2021, but it was great to see Psion's revolutionary Rotorua headquarters. Te Whare Nui O TuteataPlease lead the coverage of the April issue.It was certainly an important event that the Prime Minister and a few lawmakers joined us at the opening of the month.
May 2021
Tauranga Marine area We dominated our May issue when we saw what our area offered in the way of superyacht facilities.
It was also a growing period of BOP Business News, as we saw the introduction of the monthly BOP Personality Profile (that month featuring the Harbourmaster of the BOP Regional Council and the ocean manager John John Peters-a good thread!).
We also introduced NewsBriefs as a new design feature. This has become a popular feature for readers.
June 2021
Tech in the BayThe June liftout breaks new ground by detailing the bay's vibrant technology sector to readers. Feedback showed that some of our readers were amazed at the extent of innovation in our region and were grateful for the insights we had created.
Interestingly, our feature writer, Richard Lenny, has created the pearl of a lead story about the rapid growth of local tech innovators. LawVu – The same Law Vu that recently followed to scoop up the 2021 Tauranga Chamber of Commerce Business of the Year Awards.
Personally, I would like to see the next "Techin the Bay" in early 2022.
July 2021
And the more positive news PMG announces plans to acquire Bethlehem Town Center – Who says nothing is happening this year?
Among other interesting items featured in July, Brendon McCullam was featured as a guest speaker at the 2021 Tauranga Gala Dinner at the Trustpower Arena, featuring a featured article on Zespri's record season. The news is not necessarily bad.
August 2021
Leadership issues. In July, the team published the August issue of "Leadership issuesI was skeptical. "Everyone was so busy that Covid damped that part of his ambitious leadership," I thought.
I was wrong.
Inviting prominent regional business leaders to share their thoughts on leadership was a real success and elicited many positive comments from our readers. Thank you to all the leaders who participated and shared their experiences.
September 2021
Management Bay Park Arena I told me that the arena's 10th anniversary stabbed my ears – I never thought about how long it was there.
To me, Bay Park was an eternal institution, and the arena seemed to serve almost everyone in the Tauranga region. The editorial team thought it appropriate to cover the anniversary, and it turned out to be a really interesting feature.
It should be noted that "the venue opened on time and within budget in late August 2011". How often do you hear these words in connection with recent large-scale projects?
October 2021
Not only did we create the 2.0 Business Navigation Guide after the blockade in the October issue, but we also participated to celebrate them. 30th Anniversary at Farmer Auto Village..
It's not a meaningful achievement for any business. Congratulations from the BOP Business News team to the Farmer team.
We would also like to thank the businessmen who participated in the Post Lockdown 2.0 feature. This feature leveraged the expertise of these experts to tell the story.
November 2021
Warning: Urgent action required! The bay is suffering from an urgent housing shortage.
That's how to read the headline on the top page last month. Did we exaggerate it? I do not think so. Our editor, David Porter, mentioned it in an editorial in that issue when he mentioned the housing crisis in the area.
David gave lead article comments and background to economist Tony Alexander, Priority One Nigel Tat, Rotorua Chamber of Commerce Bryce Hard, Carlos Corporation Scott Adams, and Eastern Bay Karl Gradon. heard. It was not intended to be sensational, but merely to give an opinion or background on the housing problems facing our region.
---
Before we talk about the 12th and final issue of this year, we would like to thank advertisers who took this opportunity to take this opportunity to create BOP business news for business readers in the region. We would also like to thank our enthusiastic readers.
December 2021
Sort reader problem. The situation has changed in this December issue. We tell regular columnists "take a break this month" and this issue is almost exclusively focused on the thinking leadership we call.
As we approach the end of 2021, we continue to face Covid's problems, logistics and transportation problems, and the housing crisis. The Bay of Plenty Business News not only looks back on the year 2021, but also focuses on thinking about where industry leaders and their own industry, business, and the Bay of Plenty business community are heading. I'm guessing. It can be used.
(Don't worry, our regular columnist will be back in January)


2021: 1 year of review
Source link 2021: 1 year of review